A tradition going back over half a century, the Pebble Beach Concours d'Elegance is where the world's collector cars meet and compete.. But the Concours is only the final event in a packed week celebrating the classic automobile! 


We are thrilled to share that Ferrari Beverly Hills, together with Ferrari Los Angeles, Ferrari South Bay and Ferrari Silicon Valley will be sponsoring Concorso Italiano that once again will be a key part of the traditional Monterey Automobile Week. 
With more than 1000 vehicles of Italian origin, and its atmosp
here, and elements of Italian style such as fashion, food, music and art – all of this on the beautiful grounds of the Black Horse Golf Club, we are looking forward to welcoming clients at our exclusive lounge inside the Concorso Italiano.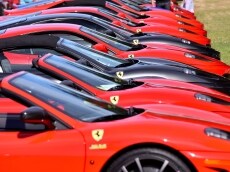 Concorso Italiano is taking place on Saturday, August 20th 2016, 930am to 5pm at the Black Horse Golf Course located on 1 McClure Way, Seaside, CA 93955.

Join the fun, and register your Ferrari directly at the Concorso Italiano website. 

If you are planning on attending the Pebble Beach/Monterey Car Week, please let our Marketing Manager know, so she can make sure to inform you of all the latest happenings and special event invites. Christina can be reached at Events@FerrariLosAngeles.com